If you ever wanted to find your own Turquoise, here is the story of Colorado miners published by https://www.rockngem.com/
Native Americans once "owned" all the turquoise deposits in what is now the United States, not in terms of today's legal definition of ownership, but by virtue of discovering the deposits and having been first to mine, work, and trade the turquoise. But after Europeans arrived, the turquoise mines became and remain, for the most part, Anglo property.
The exception is the North Star Mine in Cripple Creek, Colorado. The North Star is owned by Clint Cross, a registered member of the Sokoki Tribe of the Abenaki Nation of Missisquoi, along with his wife Louisa McKay and Australian partners Graham and Anna Slater. Clint is the only Native American to currently own and operate an active turquoise mine.
North Star Mine turquoise is distinguished both by the mine's Native American ownership and its superb, natural gem qualities of saturated blue-green colors, distinctive matrix patterns, and extraordinary hardness.
Expanding on a Turquoise Tradition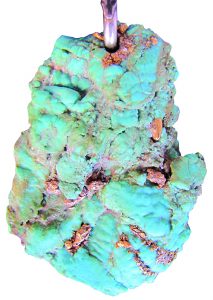 Although new on the market, North Star turquoise already has a heritage as the latest chapter in the story of Cripple Creek turquoise. Cripple Creek, of course, is first and foremost synonymous with gold. Perched 9,500 feet high on the western slope of Colorado's iconic Pikes Peak, the town is named for a nearby rocky creek notorious for crippling cattle. Cripple Creek was born in an 1892 gold strike; just eight years later it had grown into a booming city of 20,000 residents with 400 mines turning out one million troy ounces of gold per year.
The first miners at what is now Cripple Creek, however, were not gold miners, but Native Americans who collected turquoise from exposed veins. Their points and scrapers of flaked chalcedony are found today along with bits of turquoise on the surface of the North Star Mine.
"Turquoise was not mined in Vermont where I was born and raised," Clint admits. "But my people—the Abenaki—recognized its spiritual significance and passed that along to me. So owning a turquoise mine today means a great deal to me—it's something I feel I was meant to do."
Turquoise has long held a special place in the beliefs of Native Americans, especially those cultures indigenous to the turquoise-rich Southwest. While Native Americans admired turquoise for its beauty, they also venerated it for its spiritual, religious, and ritualistic significance.
Cultural Connections
Some cultures considered turquoise a part of the sky that had fallen to Earth; its blue-green colors symbolized the connection of Earth with sky, and body with spirit. In Navajo and Hopi creation legends, turquoise represents sky, water, bountiful harvests, health, and protection.
It is also an element in Zuni rituals and Navajo rain ceremonies. Apaches linked turquoise to rain at the end of rainbow and attached bits of the stone to their bows in the belief that it guided their arrows.
Cultures far beyond the Southwest also recognized turquoise's sanctity. Turquoise mined in the Southwest has been recovered from indigenous cultural sites as distant as Florida, Canada, Central America, and the Caribbean.
The Southwest has more than 200 significant turquoise sources, most related to shallow, oxidized copper deposits in New Mexico, Arizona, and Nevada. Top-quality turquoise, however, is rare. Fewer than a dozen sources consistently yielded turquoise in which color, durability, and hardness did not require artificial enhancement. Most of these sources have been mined out and others lost to open-pit copper mining.
Turquoise Deposits in Colorado
As a relatively minor source of turquoise, Colorado has just five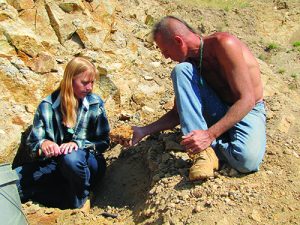 significant deposits, all in the south-central part of the state. Among them are Turquoise Chief Mine in Lake County, the Last Chance Mine at Creede in Mineral County, the King Turquoise Mine in Manassa, Conejos County, Villa Grove in Saguache County, and Cripple Creek in Teller County. The North Star Mine at Cripple Creek is now Colorado's only active turquoise source.
Colorado turquoise occurs in a variety of mineralogical environments. At the Turquoise Chief, it is present as veinlets in granite; at the Last Chance, it is found in heavily oxidized sections of the silver-rich Amethyst Vein. Villa Grove turquoise occurs as veinlets in altered gabbro. At Manassa, Native Americans originally mined turquoise from underground workings in solid basalt, and the site was later mined commercially. At Cripple Creek, turquoise veins are found in altered diorite.
Turquoise (CuAl6)(PO4)4(OH)8·4H2O) is hydrous copper aluminum phosphate, a secondary mineral that forms under specific hydrological and mineralogical conditions from the weathering of rocks rich in aluminum, copper, and phosphate minerals.
The Cripple Creek deposit is located within the Central Colorado volcanic field, an extensive area of volcanism that dates the early Oligocene Epoch some 34 million years ago. All local mineralization is related to the Cripple Creek caldera, a collapsed volcanic system created when eruptions alleviated magmatic pressure, causing a volcanic dome to subside and fracture.